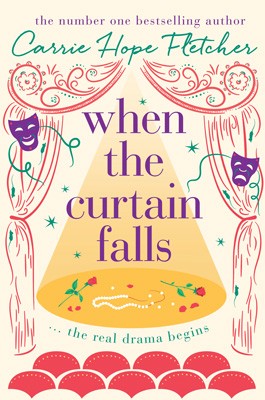 In 1952 two young lovers meet, in secret, at the beautiful Southern C ross theatre in the very heart of London's West End. Their relationship is made up of clandestine meetings and stolen moments because there is someone who will make them suffer if he discovers she is no longer 'his'. But life in the theatre doesn't always go according to plan and tragedy and heartache are waiting in the wings for all the players . . .

Almost seventy years later, a new production of When the Curtain Falls arrives at the theatre, bringing with it Oscar Bright and Olive Green and their budding romance. Very soon, though, strange things begin to happen and they learn about the ghost that's haunted the theatre since 1952, a ghost who can only be seen on one night of the year. Except the ghost is appearing more often and seems hell bent on sabotaging Oscar and Olive. The young couple realise they need to right that wrong from years gone by, but can they save themselves before history repeats itself and tragedy strikes once more?

When The Curtain Falls

Ik steek het zeker niet onder stoelen of banken dat ik een fan ben van Carrie Hope Fletcher. Ik heb al aardig wat blogs geschreven waarin zij naar voren komt. Ik vond het dan ook zeker geweldig dat ze weer een nieuw boek had geschreven. When The Curtain Falls gaat over een jong stel dat samen speelt in een toneelstuk. Eigenlijk gaat het over twee stellen in één theater, maar dan zeventig jaar bij elkaar vandaan.
Lees

"Review: When the curtain falls"

verder